Good Wednesday, everyone. We continue to track a nasty storm system that arrives just in time for Halloween. This will bring high wind, heavy rain and the potential for strong thunderstorms to the Bluegrass State.
Let's start with today.
A warm front is lifting northward across Kentucky and is touching off scattered showers and thunderstorms. This isn't an all-day rain, but it will last into the afternoon hours. Here's what our network of radars are seeing:
Temps will be warmer across southern Kentucky than areas across the north. A high of 70 degrees will be possible south of Interstate 64, with mid 60s to the north.
Our strong storm system across the plains states heads toward the Great Lakes on Halloween. This will drag a powerful cold front through Kentucky.
Rain and thunderstorms will increase from west to east as the day wears on. Winds will become very gusty and could top 40 mph at times. Thunderstorms could be strong, and there is a slight chance of  severe storms. Damaging wind is the primary threat. Here's the latest severe-weather outlook from the Storm Prediction Center: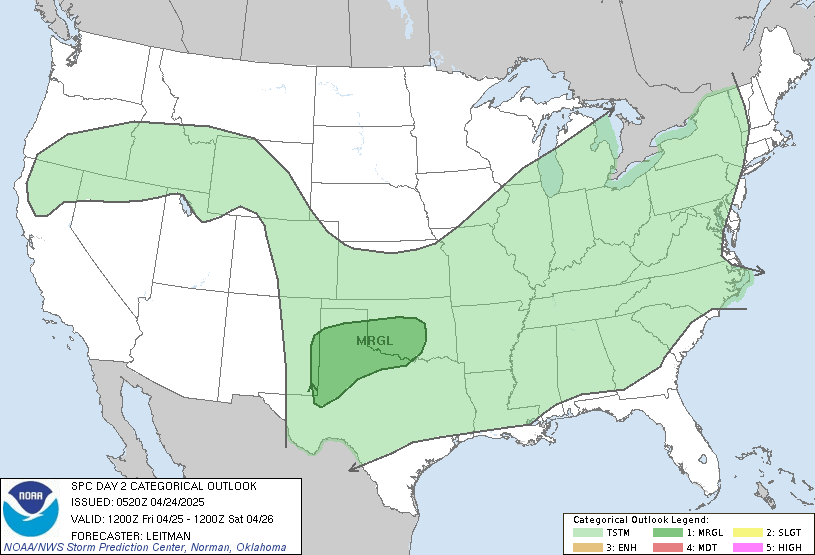 All of this adds up to a nasty Halloween forecast for kids making the candy rounds:
Leftover showers will end early Friday morning as cooler air filters in. Another cold front arrives Saturday with a smaller chance of showers. That will bring a shot of chill through Sunday.
Another big storm system moves our way by the middle of next week.
Have a great day and take care.