Good Friday, everyone. Some light snow is back in the Bluegrass State as we get ready to kick off a harsh weekend of weather. Bitterly cold air and a possible winter storm will follow Friday's snowflakes.
The action out there is centered across the southern half of the state. That's where a winter weather advisory is out until early afternoon:
Some light accumulations are possible in these areas. The rest of the region will see some light snow and flurries through the afternoon, with highs in the upper 20s to near 30.
Arctic air sweeps in Friday evening with snow showers and a few squalls. That continues overnight with the potential for light accumulation.
The cold is the big story. Lows by Saturday morning could drop into the upper single digits in some spots. Wind chills could be dangerously low. Look at the numbers being forecast for Saturday morning: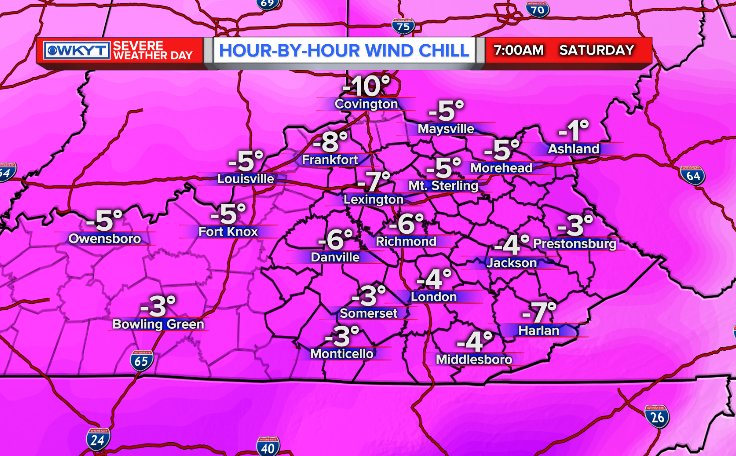 Highs on Saturday are likely to stay in the mid- and upper teens, with a wind chill near zero all day.
That brings us to Valentine's Day and the potential for snow. A developing storm system could send a period of snow across the region that afternoon and evening.
Here's what the NAM has for that:
The main storm system follows that Monday and Tuesday. The track on that is likely to work across Tennessee before turning the corner up the eastern slopes of the mountains. The operational models are trying to figure out how to play this system and seem to be struggling in how to handle the temps. The new run of the GFS is catching on to the cold more than earlier runs:
Take those with a grain of salt as I think it still has a lot of work to do with the temps as the storm comes in.
The European Ensembles from WeatherBELL show more of a statewide impact…
What do I think of this storm potential? It's way too early to get specific, but I do expect some kind of impact across Kentucky. Does this mean a little snow or a lot of snow where you live? I can't answer that at this point. I'm not saying you're getting a winter storm, but I'm also not saying you won't. It truly is all about the strength and track of the low.
I leave you with your Friday tracking toys:
Hamburg Area from WKYT Studio
Lexington

I-75 @ Winchester Road
Lexington

I-75 @ Iron Works Pike
Lexington

I-75 @ Clays Ferry Bridge South
Between Lexington and Richmond

US 60 @ US 127 Frankfort
US 60 @ US 460
Frankfort

US 60 @ Chenault Road
Near Millville

I-75 MP 127
Georgetown

I-64 MP 97
Winchester

Mountain Parkway near Slade
Have a great Friday and take care.