Good Thursday, folks. It's a wet day for parts of the state as areas of southern Kentucky get in on heavy rain. Once this system rolls to our east, things continue to look very active as we watch a cold fall system take shape next week.
Rain out there today is all about location. Areas in the north may not see much at all. Areas to the south and southeast will see some heavy rainfall.
Here are your radars for the day:
Highs today won't get out of the 60s for many and may stay in the low 60s in the south and southeast. Leftover showers linger into early Friday in the east. Low clouds then remain for much of the rest of the region with temps likely coming in on the under from model guidance.
Saturday is mainly dry and windy as temps do actually spike. Low 80s will show up in several spots.
Our next front approaches from the northwest on Sunday and will bring the potential for a few showers and storms with it. That will knock then numbers right back down into Monday as we watch a true fall storm system the dive in from the northwest. Once gain, this looks to bring rounds of showers and should be a big wind maker as cold air dives in here, setting the stage for a late week frost threat:
That's a windy and very cold look. Winds may gust in excess of 40mph as the colder air surges in here:
EURO
GFS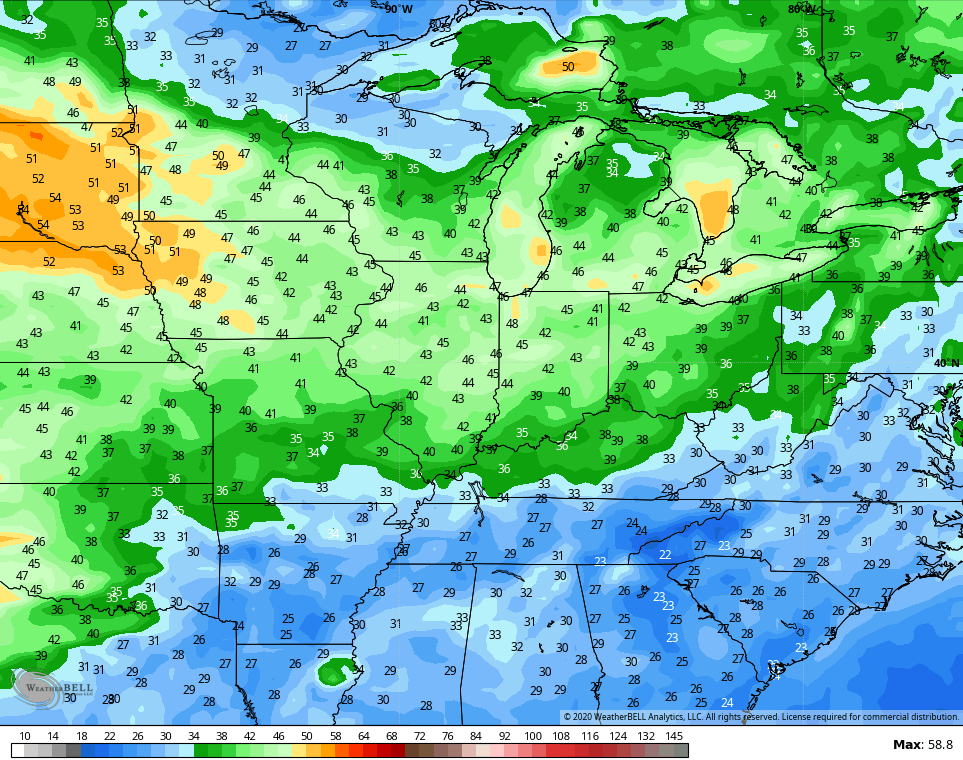 Highs in the 50s look like a good bet for several days and lows that may take us into frost and light freezing levels as temps are WAY below normal for an extended period:
Of course, that's what happens when you get a mega trough like this:
Overall, this looks like a cold pattern into the first half of October. The GFS Ensembles show this well:
Have a great day and take care.