Good Monday, everybody. Another fall cold front is rolling across the state today and is ushering in a blast of seasonal chill. A much stronger front then targets the region by the end of the week, bringing the potential end to the growing season.
Temps out there today are generally in the 70s ahead of our front as a strong southwest wind kicks in. As the front moves through this evening, a gusty band of showers and thunderstorms works in with it.
Here's your regional radar o track the action:
Pockets of mid and upper 30s will show up Tuesday morning across north-central Kentucky, especially. The rest of the day and into Wednesday will be super nice.
Things change in a hurry starting late Thursday as a massive trough dives in here from the northwest. This is a powerhouse of a cold front that ushers in a wintertime looking setup from Friday through much of next week.
We are likely to get two systems delivering the cold air. As mentioned, the first arrives late Thursday with the next one at some point this weekend or into Monday. The models vary a bit on this from run to run.
The GFS is now back to showing the potential Ohio Valley flakes:
This is something the Canadian has been showing a while and continues to do so, albeit a little different:
We will see how all this plays out, but some big model bounces are likely because there is so much energy diving into this highly anomalous trough. One thing is for sure, it's cold and likely ends the growing season with temps that can reach the 20s on more than one occasion. The 7 day average temp departure from the GFS starting this Friday:
Again, that's a 7 day average departure and that's absurd for the middle of October.
By the way, the GFS Ensembles continue to indicate the potential for flakes over the next 2 weeks: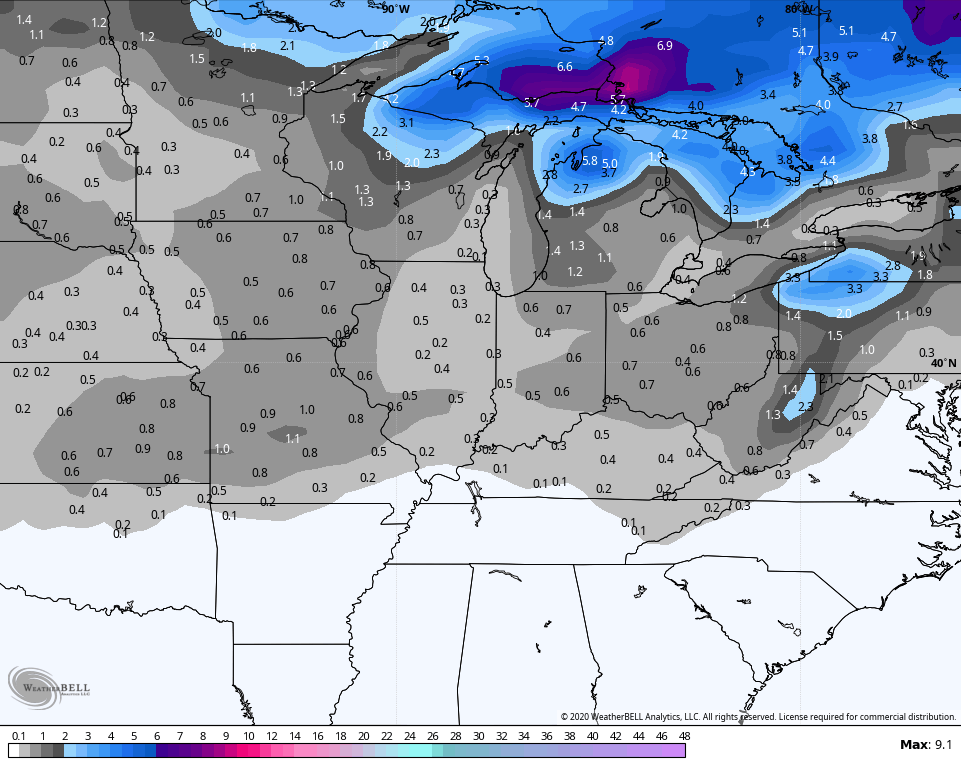 We shall see, but 4 of the past 8 Octobers have featured the first flakes of the season. Anyone scoffing at the potential should probably do some weather research on the climatology of this region.
Have a great Monday and take care.