Good Wednesday, everyone. Today is a special day… The day we honor all those who have served our amazing country. All I can say is a heartfelt thank you for everything you've done for us as a nation!  On this Veterans Day, we have a cold front plowing across the state today and it's bringing wet weather with a big time temperature drop compared to where we've been. This actually kicks off a pattern skewed normal or a little below normal for the rest of the week. Once into the weekend, a stronger cold front will usher in well below normal temps into the first half of next week.
Today's front slows down as it gets into the eastern part of the state as a weak wave of low pressure develops along it. That will throw a round of heavier rain across the southeast and we will need to keep a close eye on that setup. Farther west behind the front, showers persist across much of central Kentucky as temps stay seasonally chilly.
Here are your radars for the day…
Temps are now much more normal for November as we roll through the rest of the week and into Saturday. Here's an animation of the forecast temps from the NAM starting at 1pm today and ending Saturday morning at 7am…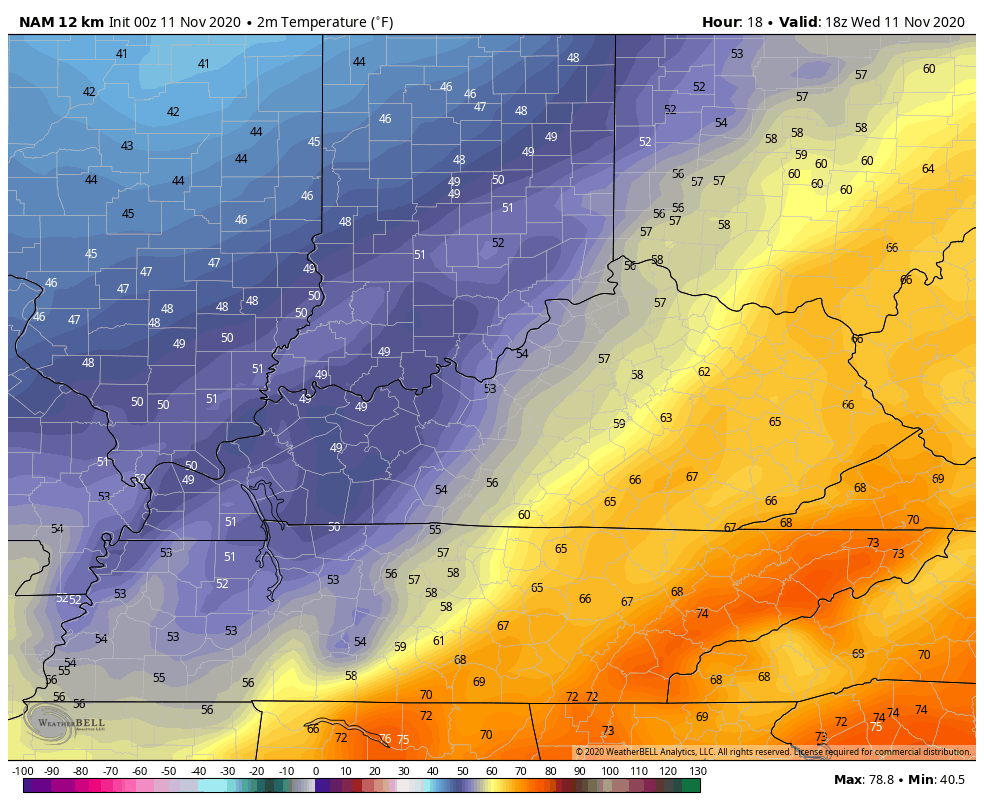 Let's move on to Tropical Storm ETA down in the eastern Gulf of Mexico. This is a small storm, but it started looking healthy again last night…
It now appears we are back to where we started a few days ago with ETA hugging the Florida coast before making landfall tomorrow. Here's the latest from the National Hurricane Center…
If in fact we can go ahead and get rid of ETA a little quicker, then we will likely see the overall pattern skewing colder. You guys know my thoughts on all this from numerous prior posts about how the tropics can slow things down, so I won't rehash.
The computer model forecasts are now taking on a much colder look over the next few weeks. We see a system rolling in here over the weekend with a spike in temps ahead of it and a big drop in temps behind it.
Here's the EURO from Saturday night through Tuesday…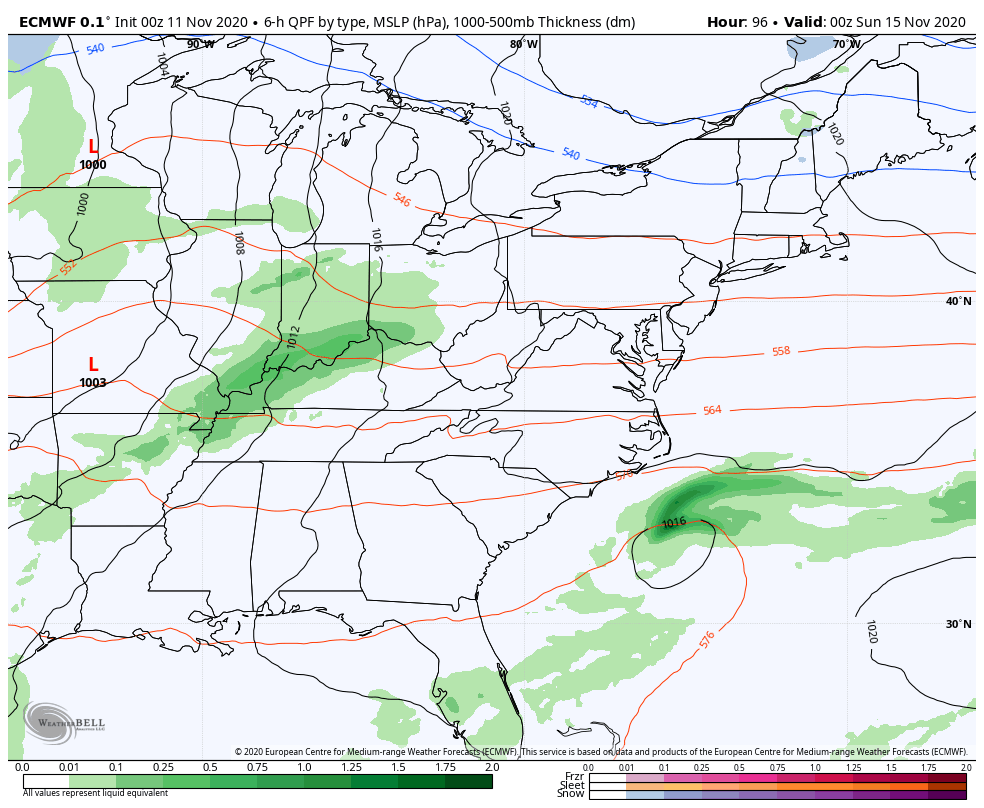 The Canadian actually locks the colder look in for all of next week…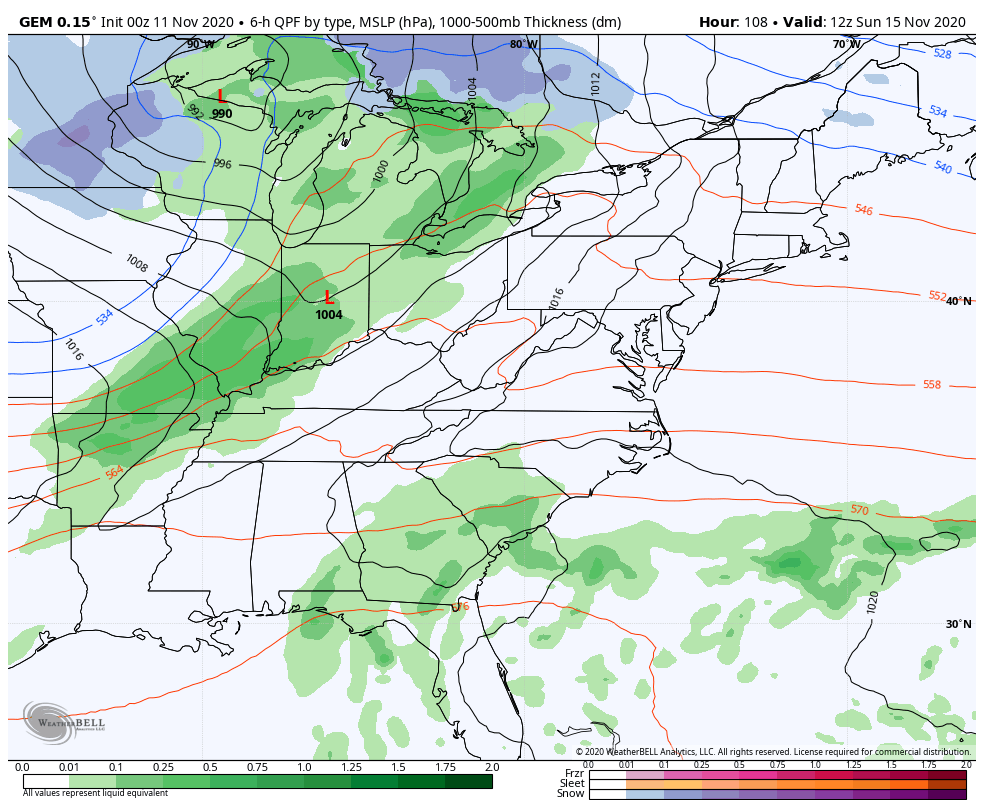 Look at those temperature anomalies…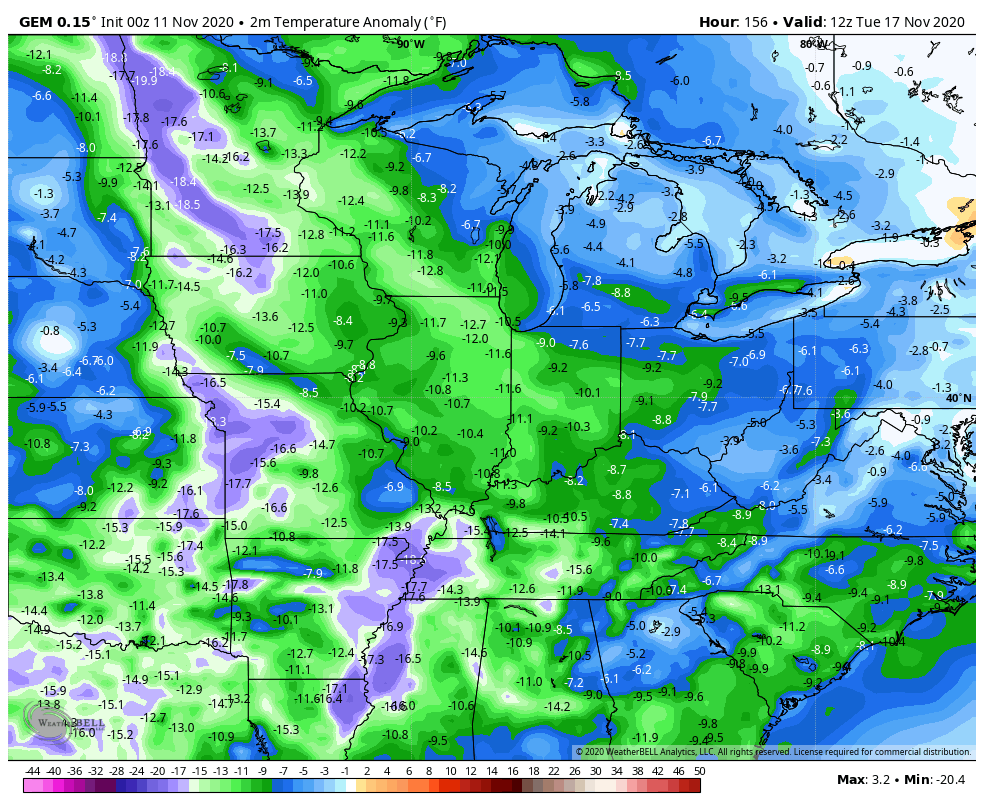 For the record, I don't think it plays out quite like the Canadian shows. We get our cold shot through the middle of next week but eases off late in the week into the following weekend. From there,  we are likely to see a colder, and perhaps wintry, trend as we work into Thanksgiving week. Wait… Are we really 2 weeks away from Thanksgiving? Time is flying by, so do whatever you can to slow it down and enjoy the ride!
Once again, thank you Veterans!!!
Have a great day and take care.